The Cannes Film Festival has keept us incredibly busy since 2004 throughout the months of March, April and May each year. 
The festival is always full of celebrities although there are some years that are truly more memorable than others such as …
In 2017 Rihanna star of Chopard's new jewellery collection
The event went exactly as we planned and everyone couldn't have wished for a finer star guest to entertain than Rihanna and her entourage.
Singer Rihanna made her Cannes debut as Chopard's special guest. The Barbadian celebrity is not new to fashion collaborations but this time she overcame herself by working back to back with Caroline Scheufele, Chopard's artistic director and co-president, to create an exclusive new line of jewellery.
…and what better way to celebrate this new alliance, by organising a private dinner in honour of this special guest!
Once again Flower Power Events deployed their forces to help bring this event to life and made sure that every single detail was perfect.
On the evening of the dinner, Rihanna, and other stars such as Julianne Moore, Winnie Harlow and Petra Nemcova, were welcomed into the stunning Chopard Rooftop in the Martinez in Cannes. 
The theme revolved around colourful sets of hydrangeas and dahlias in green, blue, yellow and purple displayed along the central axis of the dinner table. All around, orchids and different types of palm plants elegantly decorated the venue together with display cases showcasing the jewellery pieces from the Rihanna ♡ Chopard collection.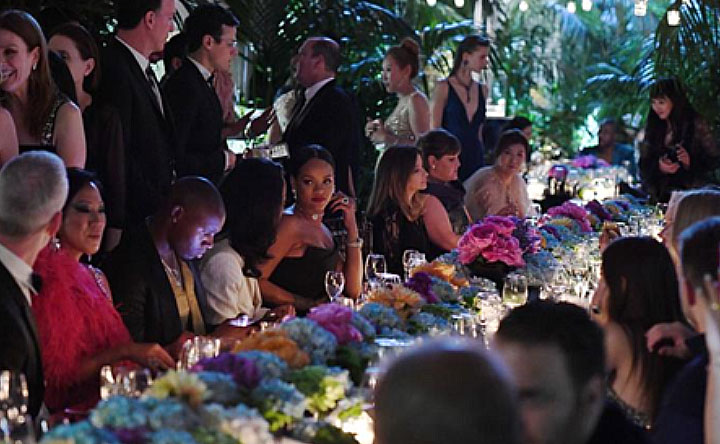 The event went exactly as we planned and everyone couldn't have wished for a finer star guest to entertain than Rihanna and her entourage.
Bruno Mars performs at Chopard's Space Party
Every year Flower Power Events are tasked with finding an original location for the Chopard party.  In previous years we have used locations ranging from a purpose built structure at the Harbour to the Hangar at Mandelieu airport in order to keep it fresh and exciting
In 2017 we organised Chopards second party the night after the Rhianna dinner. This was even more of a challenge with 600 guests in attendance and an "extragalactic" brief to live up to, however, it turned out to be an incredible and one of the most anticipated of the entire Cannes Film Festival!
The selected venue for the SPACE party was Port Pierre Canto, on the seafront of La Croisette in the city centre. The futuristic décor was specially created for the occasion and included dinner being served in a space shuttle and a parade of fashion models wearing the latest Chopard creations.
But the real highlight of the evening was the mesmerising performance of singer Bruno Mars who took the stage in designer cap and sunglasses and made every guest jump off their seats and dance to the rhythm of his most famous hits.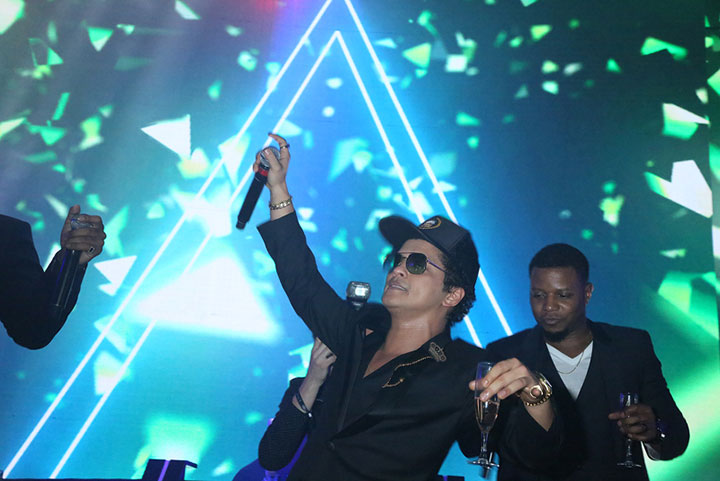 Superstar Rihanna attended the night among other celebrities such as Julianne Moore, Will Smith, Eva Herzigova, Paz Vega, Kendall Jenner, Sara Sampaio and Bella Hadid just to name just a few!
Needless to say these were two amazing nights which Chopard and Flower Power Events will never forget and we hope all the guests left with memories to cherish for a very long time.
As official sponsor of the Cannes Film Festival Chopard expects Flower Power Events to help them every year with not only their star studded parties but with every aspect of their attendance in Cannes including:
All hotel bookings and transportation requirements for Chopard and its clients including high profile international celebrities and their entourage
Restaurant bookings throughout the duration of the event
Assisting the Chopard Decoration Team with organising all technical and logistical strands of the exclusive Chopard events held throughout the festival including management of the invitation lists
We pride ourselves on our long standing partnership with this truly amazing client and look forward each year to surpassing their expectations and delivering a truly memorable event for them.